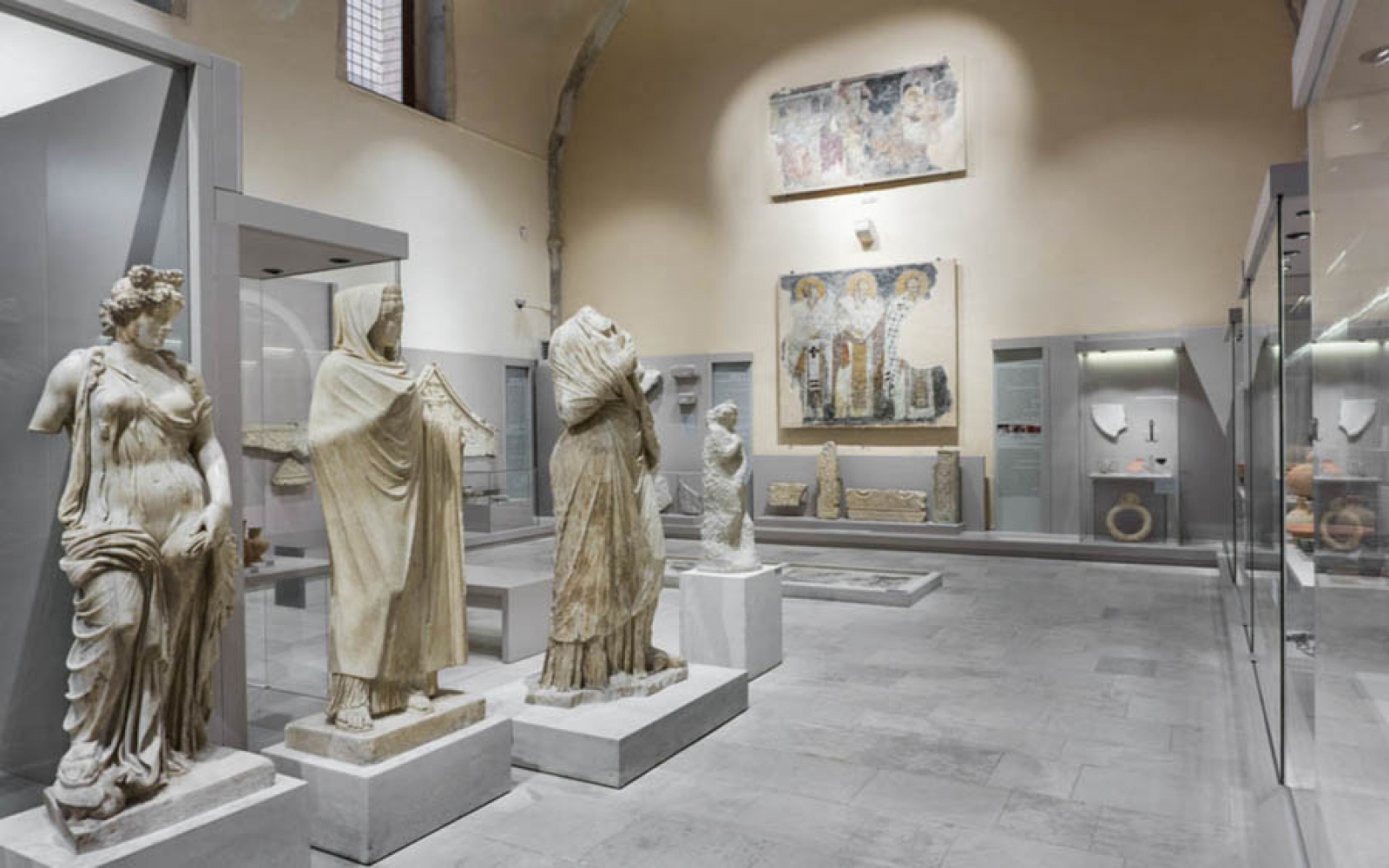 Museums
Museums

In the Prefecture of Rethymno, as evidenced by the findings and the inscriptions, there seems to have been presence from the Neolithic Age. Over the centuries, the area of Rethymno has had times of flourishing and bequeathed to the newest important cultural monuments. The real renaissance for Rethymno, though, came during the Venetian domination. Today a visit to the Fortezza or the museums of the town will make you travel back to the picturesque Prefecture of Rethymno, as if time had never passed...

1. Paleontological Museum / Satha & Markellou Str

It is housed in the Veli Pasha Mosque or Mastaba Mosque and operates as part of the Goulandris Natural History Museum in Crete.. The Museum exhibition offers visitors various brief stops along the history of Crete in the past 300,000,000 years. Fossils of invertebrates from Paleozoic, Mesozoic and Cenozoic sea deposits in Crete, along with texts, drawings, maps and information inform visitors about the geological treasures of Crete. In the museum are shown bones of Pleistocenic native elephants which are of special interest, as well as material regarding the deers in Crete.

Tel: +302831023083
Email: info@gnhm.gr

Opening hours:
April – October: Monday – Saturday 9:00 – 15:00
November – March: Tuesday, Thursday & Saturday 9:00 – 15:00

Tickets: 4€

-------

2. Archaeological Museum of Rethymnon / 4, Agiou Fragiskou Str

It is located at the center of Rethymno's historic center in Saint Francis Church. It hosts findings from the Neolithic Age to the era of Roman rule. The collections include findings from caves, settlements, and cemeteries of the Minoan Era, as well as objects from the Geometric, Archaic, Classical, Hellenistic and Roman eras brought to light by archaeologists during excavations in ancient cities. Some of the most important exhibits that you must see are the helmet which is covered in boar teeth and the reliquaries from the post-Minoan era cemetery of Armeni, the statue of Aphrodite from Argiroupoli, the seals and collections of gold jewelry and coins, including some of the oldest navigation instruments.

Info tel.: 28310 27506.

Opening hours: daily 10:00 – 18:00 except Tuesday.

Tickets: 2€ and 1€ for senior citizens aged over 65 years old and free entrance for students.

--------

3. The Fortezza of Rethymnon

This Venetian castle is until this day a trademark of Rethymno and for years it has been hosting plays, music and dance events, but also painting exhibitions, conferences and film shows. The castle is uninhabited and the most important buildings in it are constantly renovated. Take the chance to make a walk in the castle and enjoy the panoramic view of Rethymno from above and of the deep blue Cretan sea.

Info tel.: 28310 28101

opening hours: daily
June-September: 08:00-19:15
October-May: 10:00-17:00

Tickets: 4€, 3€ for senior citizens aged over 65 years old and free for the disabled.

--------

4. Ecclesiastical Museum / Tompazi Str, opposite the Cathedral

The exhibition of the Museum will introduce you to the ecclesiastical and cultural heritage of Rethymno. At the museum you will find 152 exhibits like carved screens, ornaments, habits, icons and manuscripts. An old clock, an original lithographic print of A. Vevelakis and the plate in relief dating back to 1816 and showing the two-headed eagle ( the oldest exhibit of the museum), are some of the items that will attract your attention.

Info tel.: 28310 22788
Opening hours: daily 9: 30 – 12: 30

Free entrance

---------

5. History and Folk Art Museum of Rethymnon / 28, M. Vernadou Str
The museum is housed in a Venetian building of the 17th Century, which has been characterized as a protected monument by the Ministry of Culture. You will see beautiful collections of traditional handicrafts and textiles, baskets, ceramics, historic heirlooms, documents, photographs, banners, maps, arms, coins, as well as interesting architectural elements like the stone staircase in the courtyard, the hall with the two rows of Venetian windows and the kitchen with the chimney.

Info tel.: 28310 23398

Opening hours: daily 10:00 -15:00
Sunday closed

Tickets: 4€, 2€ for students and senior citizens over 65 years of age.

----------

6. Museum of Contemporary Art of Crete / "L. Kanakakis" Municipal Gallery - Mesologiou 32

It is based in the heart of the old historic town, under the Venetian wall and the Fortezza castle.

In 1992 the "L. Kanakakis" Municipal Gallery was established in an old Venetian building dating back to the early 20th century, in which one of the first industrial sites in Crete operated as a soap factory until the 1970s.

Today, the Museum of Contemporary Art of Crete - Municipal Art Gallery "L. Kanakakis" continues its meaningful course for 27 years, presenting part of the Permanent Collection's works, periodic international and national exhibitions, programs and collaborations with relevant organizations in Greece and abroad.

After several renovations, it constitutes today a modern, high-quality museum space of approximately 1000 m2.

It has a permanent collection of approximately 700 works of contemporary Greek artists, which covers a wide range of the contemporary Greek art world from 1950 to date. The works of L. Kanakakis (approx. 50) were donated to the Gallery.

Opening Hours:
May - October
Tuesday - Friday: 9:00-14:00 & 19:00-21:00
Saturday - Sunday: 10:00-15:00
Monday closed

November - April
Tuesday - Friday: 9:00 – 14:00
Wednesday & Friday 9:00-14:00 & 18:00-21:00
Saturday - Sunday: 10:00-15:00
Monday closed

Admission fee: 3 €
Groups of 5 or more: 2€
Students: 1,5€
50% discount to members of the European Youth Card

Free entrance for pupils, pensioners, and holders of the Culture

card and the special member card of the International

---------

Council of Museums (ICOM).
Free admission every Thursday for all visitors.

Contact:
T: +30 28310 52530
Web site: www.cca.gr
Email: info@cca.gr